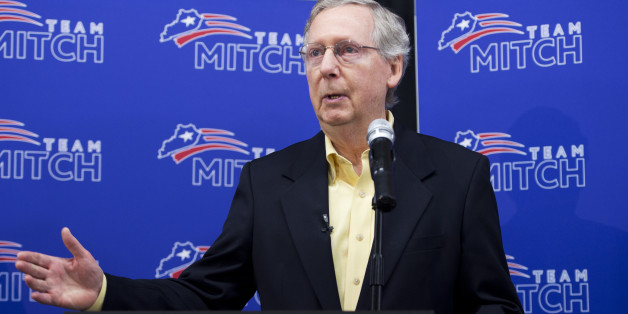 WASHINGTON — A joint fundraising committee controlled by Republican Senate leaders Mitch McConnell (R-Ky.) and John Cornyn (R-Texas) received contributions exclusively from executives of the independent oil and gas company Anadarko Petroleum Corporation, according to a report filed with the Federal Election Commission.
The McConnell Cornyn Victory Committee took in $49,600 from Anadarko executives and the company's political action committee from January through March of this year. The committee raised an additional $8,000 from Anadarko executives in October. Anadarko did not immediately respond to a request for comment.
The contributions came while Anadarko faced a lawsuit from the government over the contamination of lands stretching from Pennsylvania to Navajo Nation, a territory located primarily in Arizona. The suit placed the responsibility for the contamination with Kerr-McGee, a firm purchased by Anadarko in 2006. The Department of Justice alleged that Kerr-McGee illegally transferred assets to Anadarko to keep them out of the reach of creditors. Anadarko reached a $5 billion settlement with the government in April — $4.4 billion of which will be used to clean up pollution, with the rest going to injury claims.
A major funder of the Republican Party for more than a decade, Anadarko has not let its recent legal problems deter it from political engagement. So far in the 2014 election cycle, the company's employees and its PAC have contributed more than $160,000 to federal candidates, PACs and political parties.
The company's executives and its PAC have not given money only to Republicans. They also contributed $6,000 to Sen. Mark Udall (D-Colo.) and $3上海夜生活拿论坛